With beds full of lungwort and forget-me-nots and, yes, garlic mustard and herb robert (because I like them, OK?), I'm going to concentrate on my newest addition. My Camassia. This, I found out from Emma Cooper, is tipped for great exposure at Chelsea. I bought mine a couple of days before I read that, or I might have put it back on the shelf. I don't like people to think I'm a slave to fashion. However, Chris Beardshaw, who's putting in around a thousand at Chelsea, says he can't imagine why they're not more widely used.
Let me explain...
I was in a buoyant, spring-like mood when we visited a newly discovered nursery. The sun was shining, the birds were tweeting, and I treated myself to a carefully picked specimen that had four strong flower plumes ready to burst.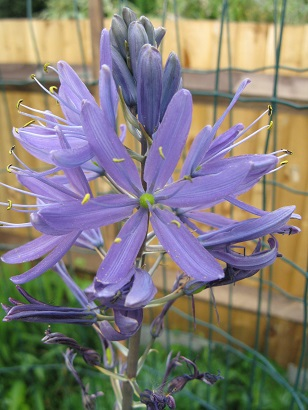 Back home, where to put it? If you're like me, you tend to leave plants in their pots around the flower beds to see how they take you. I put it in a likely spot. I got quite fond of the position. I decided to plant it there.
Arrival at bed with fork. Hold on. Weren't there four flower stalks? Two remained. The others? Snapped off. One I spied below the strap-like leaves, lying on a bed of pulmonaria. The other has never been seen again.
What little varmint was responsible? Squirrels? Foxes?  I'd placed the pot at a point in the fence where they quite possibly jump over at night. Perhaps they jumped on it.  We moved the pot and Husband produced the netting. It looked like a naughty Camassia by the time we'd finished, but no fox was going to come close.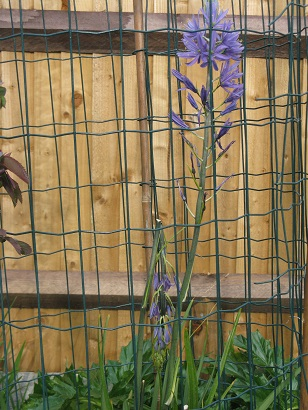 All serene. The blooms began to emerge, at the base of the flower plume, moving up. Then, What's that you say? What's that hanging down in the picture?  There, inside the cage, another snapped bloom!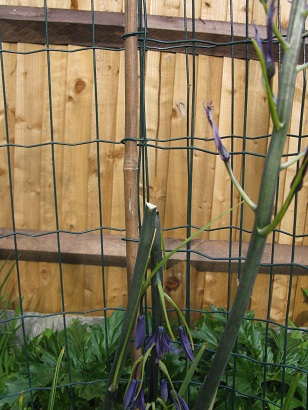 From FOUR I I now have ONE. Did something small and furry return for another bite? Was it the wind? We had very strong gusts after the netting went round. Might the flowers have got caught? 
To be frank, I don't care. If Camassias are such martyrs to passing hazards, all I can say is they suit Chelsea down to the ground and are just far too delicate for me.
ON OFFER: Plant of the moment (slightly battered).
 This is part of Garden Bloggers Bloom Day hosted by Carol at May Dreams Gardens. Pop over to see how other gardeners are doing round the world.