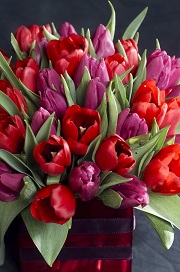 Fresh flowers from the garden. Nothing beats them, does it, for celebrating the fact that Spring has arrived?
My family is now resigned to my "natural" approach to flower-arranging, which is stuffing them in a vase and being grateful they're all upright. Having gone to all that trouble, though, it's good to make them last as long as possible.
Of course, that goes for bought bunches too and it's lovely to be able to tell your floriferous benefactor, "They've lasted three weeks!" which gives him or her a warm glow at not having wasted their money.
So, with Mother's Day this weekend, and Easter hot-foot after that, I thought I'd investigate exactly what you should do to extend the life of your cut flowers and this is what I've found.
General Points
Cut flowers when it's cooler, first thing in the morning or in the evening. 
Keep the arrangement out of direct sunlight, out of draughts, and away from heat sources.
If possible, put the flower arrangement somewhere cool overnight.
Clean your vases before use. This reduces the proliferation of bacteria, which will block the stems and reduce water uptake.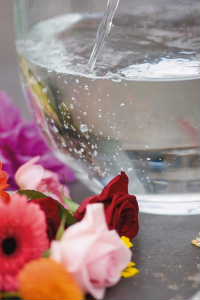 Arranging the flowers
Cut off all leaves that will otherwise be submerged when the flower stems are put in water. Leaves contaminate the water and lead to premature death.
Cut 1-2 inches (2-5 cms) from each stem. Crushing, rather than slicing, reduces the stem's ability to take up water, so use a sharp blade.
Cut stems under water (or at least under a running tap). According to Marion Owen, whose informative PlanTea website bursts with information, air bubbles in the stem have to be avoided (I guess rather like air bubbles in our circulation. OK, your rose isn't going to clutch its heart in a paroxysm of pain, but you get the idea: water can't get through). Cutting under water means that a small droplet will cling to the cut stem long enough for you to transfer the flower to a vase.
Cut stems at a 45° angle. This exposes more of the inside of the stem and increases water uptake. Water quality and temperature
Hard water ain't good, according to the Master Gardeners of Santa Clara County, California (MGs), (who have trialled various flower-care methods to see what works best) and if you live in a hard water area you should pamper your blooms with the distilled (demineralised) water you buy for steam irons.
Even if you soften your hard water, this isn't a solution, as the sodium is bad for the flowers.
Temperature-wise? Well, opinions diverge. The Flowers and Plants Association (FPA) advises very cold water, saying that water uptake is better and bacteria are discouraged. The MGs don't opine, but Marion advises cold water for bulb flowers like daffodils and tulips, lukewarm water for others.
Change the water every couple of days. This helps combat bacterial growth.
Plant Food
The plant food that comes in packets, say the FPA, is there to feed the flowers, reduce those pesky stem-blocking bacteria, and encourage buds to open. In fact, rush to the end of their video on Chrysal Flower Care and they show a comparison between week-old cut flowers with and without sustenance.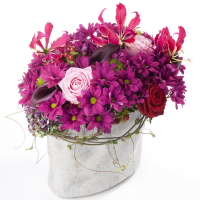 The Master Gardeners offer a couple of plant food recipes, my favourite being 2 tablespoons of lemon juice (acid improves water flow), 1 tablespoon of sugar (which is what makes the buds open and feeds the flowers) and ¼ teaspoon of bleach (bactericide!) for every 2 pints of water. The same amount of bleach should be added to the vase every 4 days.
Meanwhile, the Reader's Digest offers 8 ways to make flowers last longer, some more bizarre than others. Hair spray, anyone? Their list includes all those things that your grandmother said worked: aspirin, copper coins, vinegar and vodka (OK, so Granny didn't actually mention that one).
Do these work? Well, the MGs dismiss aspirin and vinegar as "rarely effective", while Marion points out that a copper penny might act as a fungicide, and the aspirin as an acidifier.
In the end, you should do what works for you. But knowing why you're doing something helps you to judge whether it's doing its job.
Happy Flower Arranging!
Incidentally, if you receive flowers in one of those "bubbles", even though it looks rather gorgeous, instructions from the Flower and Plant Association are that it should be removed within 12 hours. "We know the packaging looks fab," they say, "but a bubble is really only for delivery purposes."
And the best way to take it off is to hold the bouquet over a sink and slice the wrapping open at the bottom so all the water pours out. Tipping the bouquet up like a vase is likely to give you a drenching (I know, I've tried).
Photos: courtesy of Flowers and Plants Association.