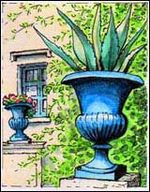 Holidays: anyone really organised is leafing through brochures as we speak. I'm not good at this. Usually I'm on the phone, trying to book a room about two hours before we leave.
Boxwood Tours were quick off the mark with their brochure this year. And if I had the money, they would be top of my list for a garden holiday. Even their brochure is a delight, dotted with picturesque illustrations. With only four short holidays available in the year, they offer total garden immersion, with a packed itinerary led by experienced horticulturalists and in which you meet garden owners and head gardeners of the properties you visit. This year they are visiting: Gardens of the Languedoc, the Kingdom of Dyfed (their cheapest, at £1398 for five days), Venice and the Veneto and the Green Heart of Ireland.
Tours include a variety of small, specialised and private gardens. Boxwood have arranged holidays for very knowledgeable groups such as the Rhododendron, Camellia and Magnolia Group of the RHS and the Hamburg Rose Society.
I guess they know their onions.
If you're lucky enough to have travelled with them, click on Comment below and let us know how you got on.