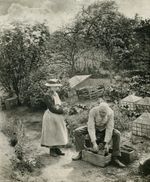 I've got a soft spot for the
Garden Museum, Lambeth
, even though, to date, I've found it disappointing. As a museum to visit, I feel it doesn't quite deliver, as I wrote in my review of the Beth Chatto exhibition for
Landscape Juice
. However, they are branching out media-wise. The museum has taken on their first ever intern, Matthew Collins, and he's bravely baring his soul on the
Garden Museum Gardener's blog
. It's a place, he feels, "to admit the extent to which I feel under-experienced, under-studied and a little out of my depth." He keeps asking himself, "Are they sure they chose the right candidate?" Well, not a lot of people are going to find out if the museum doesn't advertise his blog better.
The Garden Museum's site has been gradually changing and improving over past months (it's nice to see so many examples of new acquisitions on the pages under Our Collection), but again, they haven't yet quite got it sorted. A link to Matthew's blog is buried at the bottom of the Our Garden page. Meanwhile, the link to
The Grapevine
, their other blog is hidden on the About the Museum page. Both should have a tab on the main menu. Neither were updated during December, although Matthew has leapt into the New Year with new postings. Let's hope this improves. The Grapevine could be a good way to keep up with the museum's new acquisitions and events, while Matthew's gives it a particularly human face. It's a shame to waste such a valuable avenue of publicity.