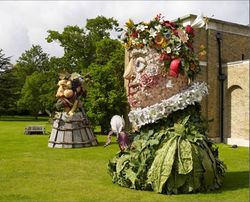 Giuseppe Arcimboldo's weird pictures of faces formed from food are well known. If you grow vegetables, these 16th Century Renaissance oddities are particularly memorable.
Philip Haas, the American artist and film-maker has gone a step further and created four 15-foot high "portraits" of Spring, Summer, Autumn and Winter after Arcimbaldo's paintings, this time in 3D.  I can see how they might appeal to Haas, as the pictures have a strange intensity and so do his films, which include Angels and Insects and Up at the Villa.
I'm not sure they're worth a traipse across London  but if you're already visiting Dulwich Picture Gallery for one of their other exhibitions, it would be a shame not to go and have a look.
Inspired by the sculptures, Dulwich are running a Foodie Faces competition, which runs until the end of this month.  Ideal for parents facing a glut of children and courgettes over the summer, there's actually no age limit, so you don't have to invent a child if the spirit moves you to enter.  Just create your self-portrait from fruits, vegetables, homemade meals, pizzas, your favourite sweets or even a full English breakfast and you could win a place on one of the Gallery's art courses, as well as be displayed alongside Andy Warhol's paintings and Philip Haas's fibreglass sculptures.