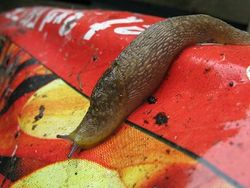 Slugs are certainly big this year, in more ways than one. Not only have I encountered some of the biggest bruisers I've ever seen in the garden, but this year's population explosion has also featured in national press.  In a supreme example of understatement, a spokesman for the National Farmers' Union, even managed, "They're not good news."
No, indeed. Nick Bailey, head gardener at the Chelsea Physic Garden, has reported this as the worst year of his 22-year-long gardening career, with slugs and snails a large part of that, and, helping out at my local horticultural society store recently, I found myself selling more slug pellets than anything else to some very desperate people.
Now, the manufacturer of Nemaslug has announced that it's run out and may not be available until next season.  Here's what Nemasys have put on their website:
"The unprecedented demand for Nemaslug during recent wet weather has exceeded all of our expectations," explains Dr Graeme Gowling, Becker Underwood's general manager for the UK and Europe.

Becker Underwood's plant at Littlehampton is the world's largest nematode production facility and at the moment is working at full capacity. Unlike chemicals, nematode products cannot be stockpiled and left in a warehouse from one year to the next, so it is a fine balancing act to produce the right quantity of each nematode product each year.

"It takes from 8 to 12 weeks to produce Nemaslug, so we can't just flick a switch and produce more overnight," explains Dr Gowling. "We are sorry to have to disappoint customers who want to order Nemaslug. Unfortunately, the incredibly high level of slug pest pressure has caught us out."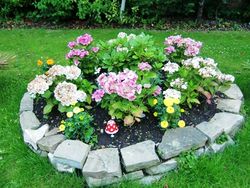 So it looks as if garden patrols and pellets are the only solution. Some slugs are worse than others, so don't waste your time on the ones that don't matter (so much). Over at Slug Off!, a website dedicated to slugs and annihiliation, there's a rundown on Bad Slugs  and the "world's longest list of slug remedies".
Meanwhile, my eye was caught at Hampton Court Flower Show by SlugBells, which seem a particularly good idea this year when anything put down on the beds has been guaranteed to be sodden by rain in no time.  If you don't fancy one that's brightly coloured competing with the blooms in the flower bed, then you can always choose one in plain green.  See if you can spot one in the picture and see them in action in the video below: