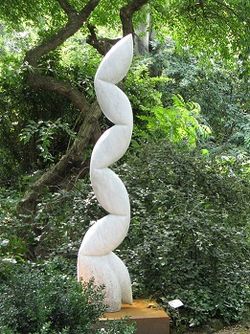 Sculpture in public places draws controversy. I could list a few pieces that have aroused fierce opinion, but Orbit, Anish Kapoor's cross between construction debris and a fairground helter-skelter, is currently the most prominent.
Of course, you may be struck by what you see as its (very) peculiar beauty, but I'd argue that it's a good example of a problem encountered in much garden sculpture: trying to fit the right piece to the right place.
Over at Thinkingardens, Anne Wareham has just posted pictures of Art in the Garden, Painswick Rococo Gardens' annual exhibition, now in its third year (and running until 31st August).
It's difficult to tell how successfully the pieces sit in their surroundings. The website tells us that many of them are either site specific or created in direct response to their environment (the balancing boxes in the orchard don't strike me as entirely successful), but on a general point Abbie Jury, who runs Tikorangi The Jury Garden, New Zealand, comments, "A garden setting can enhance sculpture but I have never seen sculpture enhance a garden." Sculpture, she feels, must always draw attention away from the garden.
Hmm.
Sculpture is definitely the Thing to Do at the moment, so gardens open to the public are stuffed with opportunities to contemplate whether It should have gone There and, even if it hadn't, is it any good?
One of the latest on trend is Chelsea Physic Garden, where Pertaining to Things Natural runs until 31st October. Sculpture can't help making its presence felt, but does this distraction automatically result in a lack of enhancement? Will a sculpture, as Abbie argues, always detract from a garden?
I'd say not. Not in the right place.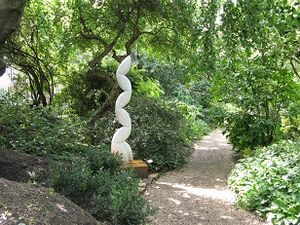 Tucked into the south-east corner of Chelsea Physic Garden, just as you turn to avoid bumping into the wall that separates the garden from the Embankment is William Peers' Lee. In Italian marble, it's totem-like, but curiously organic. Placed to one side of the path, among growing things, it almost acts as a way-marker, its angles echoed in the curving path beyond. It lends light to a gloomy corner and carries a feeling of growth. Not overwhelmed by its surroundings, nor overwhelming them, it is, I thought, in ideal scale for its position and perfectly placed, imparting a power to its surroundings which, without it, are quite dull.
Of course, placed elsewhere, I'd still have found Lee pleasing to the eye, but I do think it would have lost something, and a different landscape would not have been enhanced so well. Sculpture does not work when it's figuratively and literally in the middle of nowhere.
Which takes me back to Orbit, which I last saw in a panaroma of the Olympic Park, reminding me of something forgotten by the builders. It seemed so much in the way that I actually wished I could see through it to whatever is behind. Whatever you think of the work itself, the outline is too muddled, the form too convoluted, successfully to punctuate the landscape.
The garden equivalent might be a wide lawn. In a large scene you need a bold outline. This is not to say you have to do away with detail (that can be seen when it's approached) but for a sculpture to be successful from a distance, it must offer a shape to draw the eye. I'd add that it should draw the viewer physically too.
And not just because you can't quite believe that someone's created such a monstrosity.
You might also enjoy Creating an atmosphere with sculpture: Kern Baby by Faye Claridge at Compton Verney