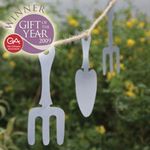 In summer, vegetable gardens around the country are festooned with CDs. There's no doubt that they catch the light (this summer, a lunch guest stoically put up with being blinded every 30 seconds, as a distant CD twisted in the breeze and sent blazes of light into the dining-room - if only he'd mentioned it earlier...). But they ain't pretty.
So here's another idea for a present. Gardeners who find hanging tat in the garden offensive might be glad to receive a more attractive bird scarer, and something that last year was awarded Gift of the Year in the Outdoor Living Category. Gift of the Year is a competition run by the Giftware Association, which looks for, according to their website, innovative designs of good quality, well presented.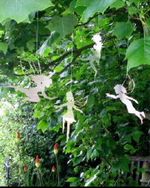 Certainly the Birds Away kit caught my eye, and I wanted to know more. Unfortunately Gifts for the Girls, who include it in their catalogue, never answered my email asking what the little forks and trowels are made of, but one assumes it is something shiny.
If you prefer something with a whiff of magic, however, I think these stainless steel fairies from Black Forge Art fit the bill. At £15 each, or four for £50, they're not as cheap as CDs, of course, but cut from mirror-polished stainless steel, they're definitely more decorative.