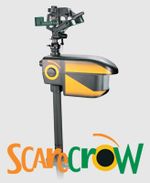 I keep vowing to buy a water pistol. After all, if you're going to try to keep cats out of the garden, you might as well have fun at the same time. However, by the time I'd found it, refilled it and emerged from the back door, I'm pretty sure the cat would have smelt a rat and slunk off.
If you're having trouble with neighbours' cats, this long list of cat deterrents from vet Pete Wedderburn's blog at the Daily Telegraph might help. The idea of keeping them out at the boundary with upside-down gutter covers on the tops of fences is one that I haven't come across before.
Back on the water pistol theme, you could let technology do the squirting for you with a motion-activated water spray like Contech's Scarecrow. Their website has links to plenty of videos about it.
Although you can find lots of references to the Scarecrow (including at cat-repellant.info) it's extremely hard to track down in the UK. I was going to suggest that you might order it from Amazon.com, but then I found it for sale at Garden Supply Direct.
If you give it a go, let us know how you get on, but in the meantime, see it in action in the video below (hint: it works better with cats).