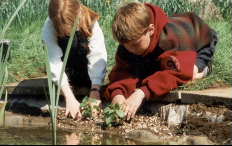 If your children's school holidays haven't yet started, they're certainly just about to. and you are possibly wondering how on earth you're going to get any gardening done and keep the kids happy.
It might seem unlikely, but this could be the ideal time to tackle that pond project you've had in mind. Over at Dallas Arboretum and Gardens, research found that water features created the most excitement for visiting children. Digging a pond in the garden could add just that dimension of interest which gets them out into yours. And getting them to help build it should give your powerhouses some exercise.
There are clear and helpful instructions for a weekend pond project at Wild About Gardens, which also warns you about such things as too much hard landscaping near the pond as young amphibians can cook in seconds.  
You might also like Getting Children Interested in Gardening and, for pond-making: Garden Ponds: Priming the Pump of Decision