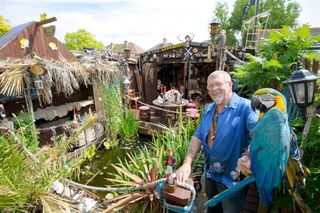 Is it the potential they offer – the undesignated space, unfettered by society's (and home-making magazines') expectations? Do we find we can express ourselves in a shed the way we're not allowed to in the house?
Reg Miller expresses himself as a pirate, and has just won Shed of the Year 2010, with Lady Sarah out of Worthing (named after his partner) in the competition run by readersheds and sponsored by Cuprinol. Judges included house renovation expert Sarah Beeny.
Lady Sarah might not be to everyone's taste, but you can't deny the attention to detail – 16' wide, 8' deep and 10'6'' at the apex, it's made to look like the poop deck of a pirate ship moored at a Caribbean dock, has a parrot and koi carp pond, and is stuffed full of piratical pieces, including real crossed bones (courtesy of a butcher, you'll be relieved to know) skulls (provenance unspecified), and a dead man's chest. It's orientated to catch the evening sun – useful for rum consumption when said sun has disappeared over the yard arm.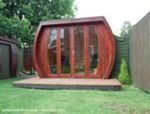 Personally I prefer the runners-up – Tim Massey's Ecopod and Dominic Jones' One Grand Design garden office/shed. Dominic will soon be offering plans for anyone who wants to make their own. He reckons that it should be possible to make one for around £1000 (hence the One Grand - nothing to do with Kevin McCloud). See how he did it at One Grand Designs.
If you think your shed could do with a makeover, do have a mooch round Readersheds. With pages and pages of pictures, searchable by categories, you'll find something to get you going at the bottom of the garden and there are links to a vast number of shed suppliers.
For fun (or a view of shed potential) catch pictures of Ben Jarvis's Space Shed rocketing into low earth orbit.
If you want to compete, entries are now invited for Shed of the Year Award 2011. In the meantime, here's a video of the winning hideaway.