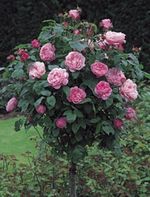 I predict a new trend. And I sense a growing interest. For some time I've been wondering what happened to standard roses.
Watching The Long Arm recently — the last film from Ealing Studios, a police procedural starring Jack Hawkins — I felt a jolt of recognition as he turned into his front garden and passed standard roses guarding the path. The film was released in 1956 and these roses were a "standard" for front gardens for many years. Indeed, I can just remember them from my childhood.
Why did they fall out of favour? Well, all things do, if only because a new generation of gardeners and designers have to justify their existence by eschewing the established and bringing in the new. And while roses of any sort are poorly suited to the ultra-low maintenance deserts that make up so many front gardens, these also require staking. But I'm not alone in thinking they deserve more attention.
Continue reading "Will standard roses become standard again?" »