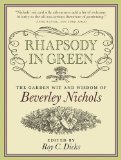 "The difference between a plant in a pot and a plant in the soil is the difference between a man in a hotel and a man in his own home."
Rhapsody in Green: The Garden Wit and Wisdom of Beverley Nichols
 is a collection of quotes from this prolific writer, drawn from fifteen of his best titles, and edited by
Roy C Dicks
, an enthusiast who now lectures on Nichols, using actorly skills to bring him to life.
"One of my grandfathers died of a clump of iris stylosa; it enticed him from a sick bed on an angry evening in January, luring him through the snow-drifts with its blue and silver flames; he died of double pneumonia a few days later. It was probably worth it."
As I said in my last post on Nichols, Dicks is largely responsible for persuading Timber Press to reprint such delights as the Down the Garden Path trilogy about Nichols' garden at a cottage called Allways (first published 1932), and his second trilogy about renovating a garden at Merry Hall, (originally published 1951). For more information see this website on Nichols.
"With even one arum in the room it is impossible to think wicked thoughts; it would be like swearing in front of a nun and if you do have a wicked thought, in spite of the arum, you must go out and have it in the hall, closing the door gently behind you."
Rhapsody in Green, its name partly taken from a chapter in Nichols' Green Grows the City, could be just the ticket if you're not sure about which volume to buy. It would make a lovely Christmas present and a bedside companion. And even if you've read most of Nichols' gardening books, you might, as I would, still enjoy having all the best bits collected in one volume.
And that's a hint, by the way.