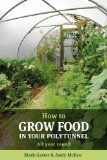 Out this week is How to Grow Food in Your Polytunnel by experienced polytunnel owners Mark Gatter and Andy McKee.
I don't usually recommend anything I haven't yet read myself, but this is definitely worth a look. Not only is it published by Green Books, who release such useful and excellent tomes as Charles Dowding's Organic Gardening The natural no-dig method (and, incidentally, currently offer 20% discount on purchases of £30 or more), but Andy writes the Hedgewizard's Diary which I referred to as a useful resource in my last post, Dead Hedge and Leaf Fence.
If you haven't visited Hedgewizard's Diary yet, then do; recounting the experiences since 2006 of a pagan family's "journey towards self-sufficiency in fruit and vegetables" in Dorset, Andy—"an optimistic idiot with a spade"—offers a very funny and engaging read.
And Amazon's Look Inside facility on the Polytunnel Handbook, this time with authors' names equitably swapped to Andy McKee and Mark Gatter, shows that their books are just as engaging as his blog.
How to Grow… is the sequel to the Polytunnel Handbook, which garnered reviews on Amazon ranging wildly from 5 stars to 1 star. On reading them, it becomes clear that most regarded the Handbook as an excellent guide to acquiring, planning and erecting a polytunnel (and is given a ringing endorsement from Liz Wright, the knowledgeable editor of Smallholder Magazine). All the 1-star reviews are by people who already owned a polytunnel and had wanted information on what to grow in it.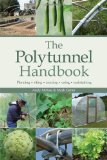 Which galvanised the boys into action. Andy told me, "We'd always intended to write a gardening book to go with the PHB, but the comments left by readers on Amazon (some of whom had bought it without reading the blurb) did make us hurry it up by a year."
And, like all good books, it's been written by people who felt the need for it themselves. "We wrote the PHB because I was annoyed at how little information was out there for tunnel-growing beginners - where to put your tunnel, how much space to leave for it, that sort of thing," says Andy. "It was the same thing with How to Grow... Tunnel gardening is all about thinking outside the box, but if you wanted cucumbers at Christmas there was nothing to even tell you where to start. Now there is."
And reassuringly Andy's not just co-written it, but will be using it himself. "I won't have to take my notepad down to the tunnel any more to look things up," he added.
I just wish I had room for a polytunnel, though Andy says a lot of the information will be useful to everyone. If you buy How to Grow, then let us know what you think.