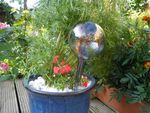 Remembering to water pot plants is not my strongest suit. Last year, my windowsill chilli plant (Prairie Fire – very cute, eight inches tall) failed miserably, through no fault of its own, bravely offering up prematurely dried chillies between shrivelled leaves on its little twig branches.
So, much as I like to think I can overcome such weakness through sheer willpower, I was interested to try a Plant Genie Watering Globe. You see quite a lot of this sort of thing around. These are very sturdy handblown glass balls with a long hollow stem – fill with water and insert into the soil of your pot.
I got mine directly from the owner Charlie Silverlock when I visited his stand at the excellent Cranleigh Show, Surrey, last year. His company, free2garden, specialises in designer and hand-crafted garden ornaments.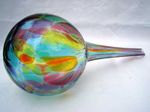 He patiently explained to (a rather sceptical) me that as the soil dries, it releases oxygen into the globe, thus releasing water into the soil. As it responds exactly to the plant's needs, you can't over- or under-water.
Just watch me, I thought.
But I have to say it works. I tried it out on a heuchera over autumn and winter. The soil stayed nicely damp, and the heuchera looked happier than all the plants I've ever kept in pots, having escaped the otherwise inevitable droughts and floods.
Yes, you still have to check the globe and fill it up, but it's an attractive and highly visible clue to what lies beneath and if you have a favourite plant that you'd hate to lose, this could be your answer.
Plant watering globes come in three sizes and can keep plants watered for up to two weeks, depending on the size of the globe and the plant. They'd make a thoughtful present for a forgetful gardener.