Is gardening inherently eco-friendly? Could it do better?  These questions seldom make it into the limelight in garden writing. If you do see an article that asks them, though, there's a good chance it's been written by John Walker, three times winner of the Garden Media Guild's Environmental Award.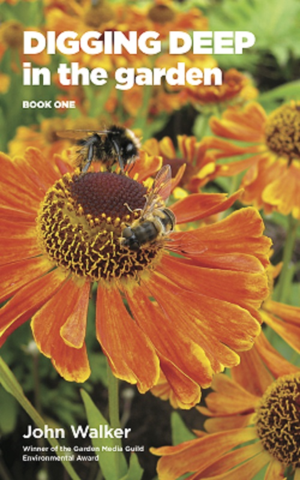 Now I'm offering you the chance to win a copy of John's Digging Deep in the Garden, a newly published collection of fourteen articles from "Digging Deep", the series that he originally wrote for Organic Gardening magazine.
In putting the book together, a paradox struck him:
Almost a decade since 'Digging Deep' took root, many of the issues I explored are still getting worse – think climate chaos, pesticide pollution, profligate energy use. And yet gritty garden writing exploring such topics is still almost non-existent; we plod on under the illusion – ably propped up by an out-of-touch media – that gardening and the wild, natural world are somehow opposites, rather than being intimately interwoven.
I was lucky enough to read John's articles first time round, when Organic Gardening magazine still existed and I too contributed (in a considerably less challenging manner) to its pages. John's article was always the first I turned to on opening the mag, to see what particular gauntlet was being thrown to the ground that month.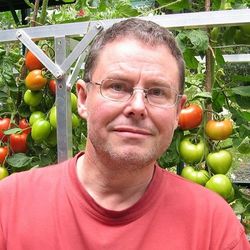 The wide range of issues covered are still very much with us and all together they pack quite a punch.  Climate change, compost, choice in garden centres, misleading magazine articles for novice gardeners, ethical supply, and the downgrading of organic gardening are merely a handful of the subjects looked at. He looks at current attitudes (still very much current), asks awkward questions, calls people to account.
It's all serious stuff, but mitigating this is the engaging writing style, wryly humorous in places, and the rallying cries to action. Yes, we can make a difference on an individual basis, and our choices do matter. It's heartening to find someone who thinks we have clout. And it's only by individuals changing their behaviour that general consensus is shifted to a new standing.
Compared with much of the output of the gardening press, Digging Deep shows what zest can be added to our gardening reading. When the garden industry campaigns to sell as much as possible to as many consumers as possible, it's arresting to question whether you, too, could manage to ditch the wheelie-bin (yes, the black one too), or whether you really need that heated propagator.
The arguments carry all the more weight because what shines from the book is that John, not only feels deeply about the matters discussed, but, as an long-time organic gardener, has the experience to speak authoritatively. 
Enter the Prize Draw
To celebrate the publication, there are two paperback copies up for grabs. To be in with a chance of winning Digging Deep in the Garden email john@earthfriendlygardener.net with "Prize Draw" in the subject line, by the end of Saturday 14th November.
The winner will be drawn at random from all the entries.
If you can't wait for the results of the draw, Digging Deep in the Garden is available in paperback at £4.99 and as an ebook at £1.99, via John's website, Earth-friendly Gardener, where you can also catch up with the latest reviews.
Terms and Conditions:

1. This giveaway is only available to people with a UK delivery address.
2. Entry closes at the end of Saturday 14th November.
3. The lucky winners will be notified by 18th November, via email. If John has not heard from him or her by midnight on 30th November, a new winner will be drawn.
4. There are two prizes of Digging Deep in the Garden, paperback version. No cash alternative.