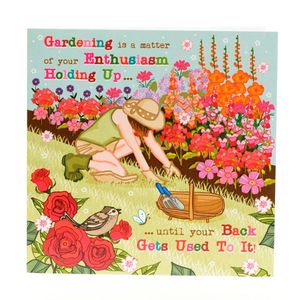 Because it feels special to get a card that someone's chosen particularly with you in mind, I'm always on the look-out for cards that suit gardeners.  I've just come across the lovely range at online garden retailer Potter and Rest. 
They're designed by freelance illustrator and graphic designer Angie Spurgeon, who lives in Somerset and produces colourful, humorous cards that are bound to cheer your gardener on their way. You can find a list of stockists on her website, and more of her designs there and on Folksy.
Craft fairs are always a good place to scout for cards and a couple caught my eye at Wisley Craft Fair last Christmas.
Louise Braithwaite, who sells cards at Mad Lou Publishing Ltd, features many actual places on her fun designs. Gardening isn't a subject she concentrates on, but she has produced a card for an allotmenteer.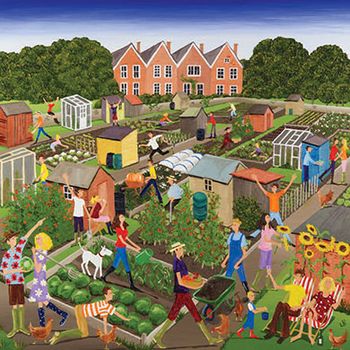 Louise will be holding an Open Studio from 16-24 August.
Striking a totally different artistic note is Gail Kelly of Algan Arts. Inspired by patterns in the countryside and garden, she creates linocuts with strong and simple lines.  Again, there's a list of stockists on her website, or you might be able to persuade her to send you some by post. 

Finally, Jo Robinson, of Ham Made, has reduced her outlines even more, to silhouettes, featuring a rabbit, a horse and a pig.
The rabbit has yet to get its teeth into gardening (possibly just as well), and her watering horse now seems to be only available as a mug, but she does offer a Mowing Pig.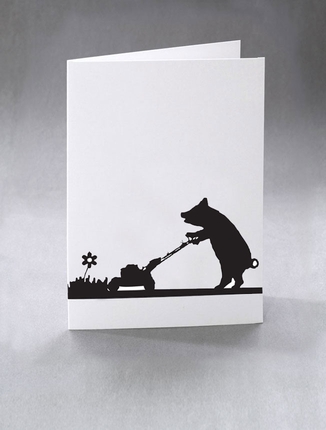 If you know of any lovely cards for gardeners, let me know and I'll round them up for another post. In the meantime, you might be interested in the print-your-own cards by Helene Taylor.