Over the past few years (since 2009. Heavens! Really?) I've given suggestions for quite a few unusual presents for gardeners. Some of you will already know that I tend to look for appropriate gifts that aren't equipment, seeds and the like, but that acknowledge the receiver's love of gardening.
A round-up has been long overdue. So I've gone back, checked for broken links (that was a long-overdue task too!), and here's a list of some of the present ideas that I still regard fondly and that, I'm glad to say, are still available. 
Click on the picture to get through to the original post.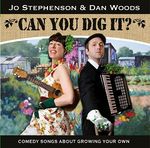 Great fun. I fell for this when I heard Jo Stephenson's ballad to Alan Titchmarsh. You can hear a number of the tracks on their website.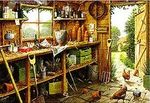 This is a favourite jigsaw of mine from Gibson Games. Plenty of interest to keep you finding the pieces. 
The pictures from high-quality jigsaw producers, Wentworth, are also great fun. Those in my previous post have dropped off their lists, but follow their link to find a January King cabbage, which must surely be a challenge.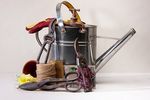 Chocolate's always welcome. I found plenty, but the main attraction has to be the extraordinarily lifelike tools from Schokolat (you can just see the secateurs leaning against the watering can).
For those in a different mood, they also do chocolate handcuffs...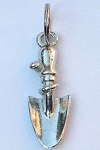 Partners in Pewter do a lovely range of keyrings, pendants etc. This trowel with cheerful worm wrapped round it is very cute. I see these every year at the Christmas Fair at Wisley. Solidly made and a nice small present.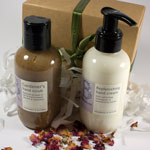 B Skincare creams are hand made in Cornwall. They produce moisturisers, cleansers, hand and foot creams, as well as some for aches and pains, which rub in really nicely, and a Gardener's Gift Set.
You'll also find a link to Pure Scents, another cream that I really liked.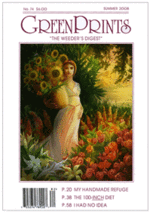 Completely different from the usual garden magazine offerings, this A5 quarterly comes with lovely illustrations and heart-warming stories.
That's probably enough for the time being. If you've found anything that you think makes a really thoughtful gardener's present, then let me know and I'll mention it in another post.  To see what else I've found over the years, try Presents for Gardeners.