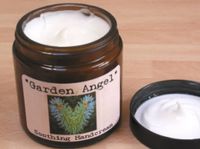 Dry skin's an occupational hazard for gardeners, especially at this time of year. So one of the more practical presents is hand cream.  There are a couple that I've found recently and particularly liked.  Both producers are small family businesses, who turn out creams without the ingredients that cause concern - such as parabens, mineral oil, SLS and synthetic fragrance - and both use essential oils for scent.
The first I picked up in Shropshire last year at the enticingly named Bog Visitor Centre on the edge of the Long Mynd (actually, the area is fascinating - the centre used to be the school for the lead miners' children). The Garden Angel hand cream by Pure Scents (a small family concern), contains calendula, to help heal scratches garnered from the rosebush, and incorporates essential oils chosen for their healing, moisturising effects on skin. It's a pure white cream that sinks into the skin quickly.  If you're anywhere near Ludlow, you can also buy it in The Wear House, Corve Street.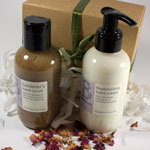 The others I found at the Country Living Christmas Fair. B Skincare products contain, unsurprisingly, beeswax. Their Hand and Foot cream is totally different from Garden Angel, being much thicker, but very smooth, leaving a slightly waxy feel to the hands when first applied. As someone whose hands get very dry (especially after delving in soil), I thought it felt very soothing. They also do a lemon barrier cream, which smells gorgeous. Neither of these, however, are in their Gardening Gift Box, but you can mix and match, and all four together would surely give a gardener's great nutmeg-graters great relief.
They are also offering free postage on all gift orders over Christmas.
For more gift ideas click on Presents for Gardeners.