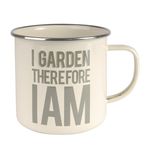 I doubt if you could find a gardener who doesn't enjoy a mug of something hot while he or she contemplates the next step (I find gardening involves a lot of contemplation, myself). And there are loads of gardening themed mugs which would make a useful gift.
Presents for Men features a couple of good, old-fashioned enamel mugs with the gardening legends Dig for Victory and I Garden Therefore I Am. As someone who equates taking mugs into the garden with returning to the kitchen with shards of china, these appeal to me. They might possibly chip if you hit the paving with them, but at least they wouldn't shatter. You might like to compare prices at Gorgeous Gifts.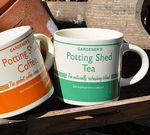 They're part of the range of Thoughtful Gardener gifts, some of which are stocked by John Lewis.  (Thanks to Country File for its post on Gifts for Gardeners for this lead; they're worth looking at for their other suggestions).
Simon Drew is well known for his witty illustrations (I mentioned his coasters last year), with titles such as  and both his Gardening Angel and Weeder's Digest mugs are good fun. They come with a coaster that also triples as a midge lid and somewhere to rest a biscuit.  A good range of Drew's designs is available at Access Garden Products. 
A lid also accompanies the Gardeners Mug, currently marked down to £4.99, from The Contemporary Home, which also offers other mildly amusing mugs.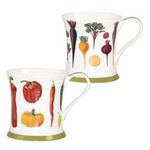 Gardeners are ripe targets for slogans, and Down the Garden offers a range, including "Hardy Perennial", which could be fun for anyone who's been at it a long time.  While one way to ensure your mug is always available is make sure everyone knows it's destined for the potting shed. Not on the High Street sells mugs appropriately labelled.
Finally, mugs with less "wit" and more style are the lovely Benary Vegetable Mugs featuring illustrations from the nineteenth-century Album Benary. Prints of these illustrations are also available from the RHS.
2013 update: I'm afraid I can't track down the Benary mugs any more. If you find them, let us know.
 For more present ideas, click on Presents for Gardeners