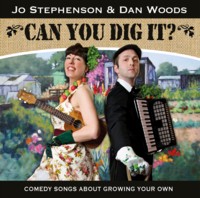 Here's something that I really hope someone's going to buy me for Christmas. If they don't, I'm just going to have to get it myself.
Jo Stephenson and Dan Woods not only know a fair amount about growing things, but have applied their musical talents to composing on matters that will be very familiar to gardeners.
Can You Dig It? is bursting with songs such as Derrick the Evil Pigeon and Gardener vs Slug, but my very favourite has to be Love Song to Alan Titchmarsh, and if you fancy a giggle I recommend you pop over to their website for a listen.
You can also buy the CD there. I think it's just the perfect Christmas present for a gardener.