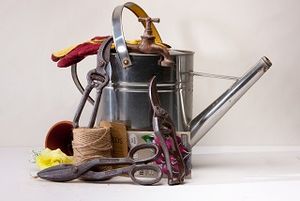 With Easter in a couple of weeks, most of us can guarantee a fair intake of cocoa solids. A friend who lost weight with Weightwatchers told me that Easter was the one time she gained during her diet - there's just so much chocolate around.
It doesn't all have to be eggs, though. 
Chocolate gardening tools seemed an obvious gift theme to me, but they're surprisingly unplentiful in the UK. A Potting Kit and a Gardening Kit (trowel and fork), both in Belgian chocolate, can be bought from Confection Affection.  The Burns Sweet Shop in St Andrews is one of several companies offering a tool kit tin full of chocolate gardening tools. There's also the slightly bizarre Green Fingers Belgian chocolate tablet complete with edible image and spade.
I can't tell you what the chocolate's like, and obviously the tools aren't that realistic.  In fact, you might like to have a go making them yourself.
For something that has to be seen to be believed, however, which you certainly can't make yourself, I recommend the extraordinarily realistic tools from Schokolat. Some of them, like the nut and bolt, even have moving parts, but for the gardener there's a choice of 2 types of secateurs, vintage shears and a garden tap (pictured).
I got pliers for my brother-in-law for Christmas (something of a joke - handiness is not his forte) and can vouch for the fact that they taste good (very cocoa-y and creamy, he told me) and, placed next to vintage tools, it's very difficult to pick which is the real thing without a closer look.