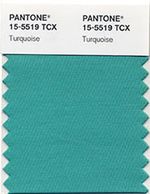 Gardeners aren't known for slavishly following fashion, but I thought you might enjoy knowing that the trendy colour for this year is…turquoise.
Of course, this presents a slight problem to the flower industry. When you think about it, not too many petals parade in bright blue-green. Blues tend to head towards purple territory and greens acidulate towards yellow. Still the Flowers and Plants Association (FPA) has risen to the challenge.
According to Pantone, the colour-categorising company which announces annually the shade of the year ahead, colour word-association studies (who'd have thought?) have shown that turquoise "represents an escape to many—taking them to a tropical paradise that is pleasant and inviting, if only a fantasy."
So the FPA suggests that, with these associations of holidays and South Sea Islands, you can summon the mood by housing some exotic plants (think Bird of Paradise, Ginger flowers, tropical leaves) in turquoise containers.
Well, why not? Turquoise is one of my favourite colours, despite the lingering associations of David Icke (remember him?). Leatrice Eiseman, executive director of the Pantone Color Institute, has said, "in many cultures, turquoise occupies a very special position. It is believed to be a protective talisman, a colour of deep compassion and healing, and a colour of faith and truth, inspired by water and sky."
And before we all chortle at the psycho-babble and inflated description of what most of us would just call a nice, bright colour, it's just worth noting that in 2002 scientists came to the conclusion that the background colour of the universe is very nearly turquoise or, as Karl Glazebrook, of Johns Hopkins University, Baltimore, explained, just "a few per cent greener."
And Pantone doesn't just ask their chief executive to pick a colour. In her article, The Colorful World of the Pantone Team, Alyssa Abkowitz describes how a team traverses the globe, looking at trade shows, upcoming movies, technical magazines and psychological studies, before predicting the next trendy tinge.
So, perhaps, in these troubled times, Pantone have, indeed spotted a trend which implies that we're subconsciously trying to harmonise with the world around us.
Oh, heavens. Did David Icke have a point?