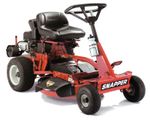 With Spring definitely on the way, the air will soon be reverberating to the whiz and rumble of lawnmowers.
Is yours suitable for the job?
If you have a large area to mow, or you have to cope with a slope, making the right choice of machinery can mean that mowing the lawn is an enjoyable task, rather than a laborious chore.
Find experienced advice on the right equipment for your type of lawn at Landscape Juice, where Phil Voice gives the lowdown.
You might also enjoy this Garden Giggle about lawncare.