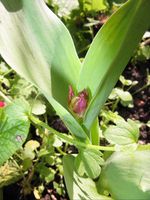 How many of you have just rifled through the shed and found the bulbs that you meant to plant last autumn?
If you're wondering what will happen if you put them in now, here's what happened to me last year, when I found a pristine packet of tulips that I'd bought at Wisley the previous autumn.
Heck, I thought, I'll put them in now (it was March) and I'll just get late tulips. Well, no. Instead of emerging much later, they shot into action. Leaves emerged within a couple of weeks.
One bulb proudly displayed a full grown flower. The rest just couldn't muster the energy to grow any bigger and I had a collection of miniature blooms.
Let's hope they've recovered for a better display this year.