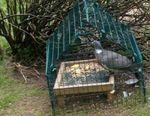 Problems with feeding the birds are not uncommon. You wouldn't think it could be too difficult putting out a bit of seed, but wind can blow over the table or whisk seeds from the feeder. Changing your brand of seed can ruffle our feathered friends' feathers, too. And then there's the battle to keep the bigger birds - pigeons, rooks etc - from bullying the little ones off the tables. Not always successful, as you can see from the picture.
Bird Table News—written by Trisha, who keeps an eye on the birds in her home county of Yorkshire—contains numerous solutions for problems with bird-feeding. She has many years' experience of looking after the birds in her garden, so it's worth dropping by for advice. If the subject you're looking for isn't covered, then questions are welcomed via the contact form. You'll also find a rundown of her experience with various types of birdseed and a recipe or two for a fat ball.
And for something different, here's a bird cake recipe that you bake in the oven.