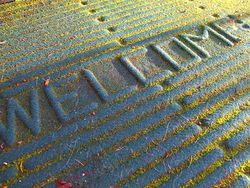 Hi, and welcome to Weeding the Web.
If you're interested in gardening, then I reckon that, like me, you're interested in all sorts of things garden-related. Here you'll find product and book reviews, show news, garden visits, plant information, even (occasionally) philosophy and politics.
One thing I love to ferret out is Presents for Gardeners (and not just the standard gardening equipment), so when you're stuck for ideas, I hope I can help.
The blog has grown out of my Website Round-ups for Organic Gardening Magazine (now sadly defunct) and Kitchen Garden Magazine (still in glowing green health) so posts include lots of links to more information. The search box is there when you're looking for something specific and, if you find any broken links, then do leave a comment; I can usually track the page down again.
In fact, I hope you'll want to jump in and leave comments anyway. I'll be really interested to hear what you think, whether you agree with something I've said or not.
So, please, come in and make yourself at home. It's always a good time to put our feet up and chat.