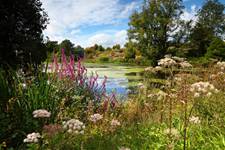 One of the places on my list to visit is National Botanic Garden of Wales. Our holidays haven't ventured as far as Llanarthne, Carmarthenshire, though. If they ever do, it sounds as if we'll need to schedule more than a day to see it. The main gardens are centred on the wooded valley of Pont Felin Gât but, if you include the attached Waun Las National Nature Reserve, there are 600 acres to get lost in. 
Visitors' grumbles that it's too much to see in a day have instigated the return of the "return ticket", which allows visitors back in free for seven days after their initial visit. 
Head of marketing David Hardy  said: "We trialled this last August after getting lots of feedback. We do say, 'You won't be able to see it all in a day,' but people from out of the area not familiar with the garden are often caught out. This is a good way of ensuring that, if they want to come back and see some more, they can – and for free."
Nevertheless, doesn't this seem a bit mean, or am I just a real skinflint (answers below, please)? After all, there are plenty of visitor attractions that allow you free returns for a year. If they offered that, it might encourage more return holidays to West Wales. Still, if you want to take advantage of this you'll have to be quick, as it only applies to tickets purchased at full admission price up to September 9th 2012.
Apart from the 600 acres, the gardens are offering a fungi exhibition, a new Green Technologies Trail around the Garden's various sustainability exemplars, and an archaeological dig to uncover the remains of what they think might be a medieval mansion and garden.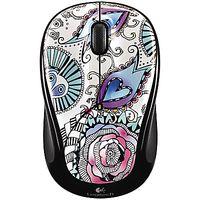 Incidentally, the gardens inspired award-winning, Welsh-based Hannah Davies in her Floral Foray design for Logitech wireless keyboard, mouse and webcam. Won't be getting them myself - my computer's a tool, not a decoration - but if you've been to the gardens you might like them to remind you of your visit.  If you buy the keyboard and mouse from John Lewis before September 14th, you'll get a free webcam.
And if you want to see more of her intricate, nature-inspired illustrations for cards, stationery and prints, visit Hannah Davies' website.