SHOCK WEATHER WARNING: Coldest winter for 50 YEARS set to bring MONTHS of heavy snow to UK
You can't have missed the news of doom last month. The Express's headline above pretty much sums it up.  And yesterday the Evening Standard reported that bookies have "slashed" odds on a White Christmas.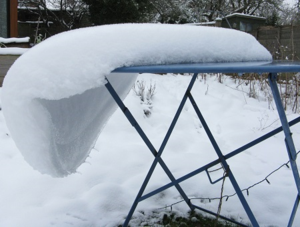 Is a grim chill creeping into your heart? It sounds like a busy winter for a gardener: heaving pots indoors; swaddling prized plants in fleece; firing up the greenhouse heater; getting soaked as we frantically shake heavy snow from fastigiate firs that will never look the same again.
What is causing this shiver of anticipation? Several factors:
1. El Nino is set to be the strongest since 1950, when, according to a Telegraph report, snow lay on the highlands for over three months and fifteen inches fell on the Isle of Wight in three and a half hours.

2. A reduction in the speed and temperature of the Gulf Stream, said The Express, means that Britain has no protection from the Arctic cold, which means we could have a repeat of 1962-3 winter when the sea froze off Kent and temperatures were nearly -20C.

3. Bewick's Swans arrived at Welney Wetlands Centre, Norfolk, two weeks early, while a lone swan made it to Slimbridge, Gloucestershire, a whole twenty-five days ahead of last year (though, given that he's only a year old, I reckon his mates played a joke on him and lied about the date). Bewick's are said to "carry snow on their beaks" and arrive ahead of bad weather, so have possibly been driven here by colder-than-normal temperatures in Russia. Canada Geese have also arrived sooner than expected.
But...remove media hype and what are you left with? 
Handily, Accuweather have, uninvited, been posting to my inbox for a year now. They forecast that there might be powerful winds in December and cold air masses, but otherwise we're in for a tranquil time with near-normal temperatures. The worst storms will pass to our south, and below-normal temperatures will track down from the north only for brief periods, though if you're in Scotland or Ireland you'll have below-normal day temperatures for much of the time, with near-normal night temperatures. 
Just not exciting enough for news. Compare Accuweather's prediction of five days of snow or ice in London (NB they forecast 15 last winter, which I'm pretty sure never materialised) with the Evening Standard's hysteria; this paltry number of days translates into "could cause travel chaos during festive period and grind the transport network to a halt".
(Pause to consider bizarre use of "grind".)
But perhaps Accuweather is being too cautious? Well,  UK Weather Forecast explains that El Nino's effects on UK weather are not well understood and weather has differed widely in past El Nino years. They currently favour a "winter of two halves", with usual autumn gales, heavy rain and snow at times, maybe turning colder after December. In beautifully measured tones, they declare: "It should be highlighted, though, that this coming winter does provide some mixed and contradicting signals in terms of possible weather and more time is required, in the coming month or so, to see how those signals develop before a more comprehensive prediction can be made."
Shifting to The Weather Outlook, we find that recent monthly temperatures can't be taken to indicate a really cold winter, although pressure patterns are pointing to a higher chance of colder weather than seemed likely a month ago. Overall, though?  "At this stage there isn't one overriding signal favouring either a colder or milder than average winter."
If it is cold and it rains, then there is a good chance of snow. The good old Met Office is quoted as saying: ""The probability that UK precipitation for October-November-December will fall into the driest of our five categories is 15 per cent and the probability that it will fall into the wettest of our five categories is 35 per cent."
I make that more chance of being really wet than really dry, but actually 50/50 on its being somewhere in between.
So, I think we can all take a step back. It could be a good moment to order more fleece, bubble wrap and paraffin but, for most of us in the UK, it currently seems likely to be a pretty normal sort of winter.
UK Weather Forecast releases its last long-range forecast for winter at the end of next month - it's the one with the highest chance of accuracy - but given that weather forecasts aren't very accurate beyond a week ahead, I think they're more for entertainment than anything.
Oh, and for creating headlines.