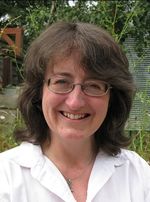 I am a freelance writer with an emphasis on garden and country-related subjects.
Since October 2007 I've written a monthly Webwatch column, starting in Organic Gardening Magazine and now appearing in Kitchen Garden Magazine.
In that time I've found hundreds of garden-related sites - useful ones, fun ones, and just plain weird. An awful lot have made it into my column, but just as many haven't, through no fault of their own, and it seemed a shame to neglect them.
Weeding the Web started with the idea of rounding up those websites in a garden writer's guide to what's on-line - a return to the original raison d'etre of weblogs, if you like. But it's turned into a bit more than that.
I'm always looking for good websites, though, either to mention here or in Kitchen Garden. So, if you've found a site worth talking about, or have one yourself, then please do give me a shout and I'll pay a visit.
By the way, when not writing, I garden. And the garden's not untidy; I'm just kind to wildlife.