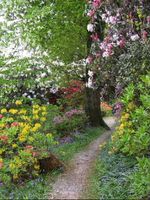 The sound of clanging garden gates seems to be reverberating around Britain. Chesters Walled Garden is now closed for good, and from the end of this month, Leonardslee in West Sussex will be closed, according to the press releases, "for the foreseeable future".
News broke in February that the Grade I listed garden had been bought by a businessman from Eastern Europe (more detail at The Telegraph). This is a terribly sad loss. Just how sad was brought home to me when I visited last week.
At this time of year, the gardens are ablaze with rhododendrons and azaleas, brought from all over the world. Huge R. loderi, first bred at Leonardslee by Sir Edmund Loder in 1900, tower over little woodland paths and the air is thick with a jasmine scent. Soon the only opportunity to catch a glimpse of these historic gardens will be to watch the feverishly intense Powell and Pressburger film, Black Narcissus.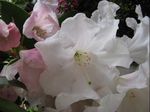 In this film,  recently superbly restored, the directors brilliantly conjured up the exotic, hothouse atmosphere of Himalayan jungle, never setting foot on the subcontinent and rarely leaving the studio, but using the bloom-laden Leonardslee for all the scenes in the valley.
The new owner will also "take on" (as the website puts it) the "Beyond the Doll's House" exhibition and the wallabies and deer, which will remain at Leonardslee. I guess that will be for his own private pleasure. The gardens close at the end of this month.
If you have a chance, go now.
And if you can't make it, this Guardian Jobs' interview with Colin Makey, gardener at Leonardslee for thirty-one years, contains some super shots of Leonardslee and an idea of a gardener's life. Or there are flashes of Leonardslee as it appeared in Black Narcissus in the trailer below.