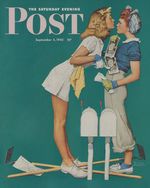 A peep at ourselves – that's the way I'd describe the exhibition of Norman Rockwell's work at the Dulwich Picture Gallery, which you've just got time to see before it closes on 27th March. I do recommend it.
Rockwell has been a guilty pleasure for some of us. He's been labelled sentimental, folksy, unrealistic, middle class. The pendulum is swinging, though, and his body of work is now acknowledged as an archive of American experience or, as Richard Dorment in his critique of the exhibition put it, "a monumental installation about America's changing view of itself over the course of the twentieth century."
You'll be familiar with quite a few of his Saturday Evening Post covers, I'm sure, and there's a complete list at Best Norman Rockwell Art. Unfortunately, the one that justifies a mention of him in a gardening blog isn't illustrated, although it is on the wall at Dulwich among all 323 covers that he created for the Post between 1916 and 1963.
Continue reading "Gardening in art - Norman Rockwell's take on gardeners" »