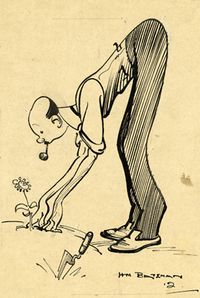 Cartoonists are visual poets. They speak volumes with an economy of expression.  It hasn't always been like this. Nineteenth-century cartoons, à la Punch, tended to be illustrations to lengthy jokes, captioned beneath.
Henry Mayo Bateman (1887-1970) helped change all that and the exhibition that's just opened at The Cartoon Museum goes a fair way to proving their claim that he was "the first modern master of twentieth-century cartooning".
I've been familiar with Bateman for many years - especially his painfully observed strip "It's All in the Game", of a cricketer self-importantly arranging his wicket only to be bowled out (and over) on his very first ball.
Husband knew nothing about Bateman, and was bowled over himself, when we visited the museum last week. Bateman has an acute feel for society's mores and characters.
Continue reading "Gardening cartoons: the delight of H M Bateman" »