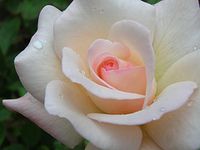 As the sowing season swings into action, are you humming something suitable as you tease out tomato seeds, lay out lettuces, and bed down beetroot?  Do you know any songs about vegetables? 
After all, music overflows with references to flowers. Songs mentioning roses alone would take several pages - think Bette Midler (The Rose), Poison (Every Rose has its Thorn), Nat King Cole (Ramblin' Rose) and of course Hank Williams Jnr's inspiration for many a Valentine message. I could go on.
Gardens feature frequently, from Old-Fashioned Garden, supposed to be Cole Porter's first smash hit in 1919 (hear it sung, read the lyrics), through English Country Garden (of which Rolf Harris did an odd acerbic version) to all those that use the garden as a metaphor for heaven, such as the lovely In the Garden (here by Elvis). In fact, the Guardian's music blog did a readers' round-up of recommended "garden" songs which included none of these last November.  
But vegetables? Well, extensive research has revealed that, indeed, there are songs about vegetables. Unsurprisingly, they tend to fall into the "novelty" category, which can be the only way to describe The Eggplant the Ate Chicago, or the inventive Barnyard Dance (aka The Vegetable Song), sung by the Squirrel Hillbillies (which pretty much tells you all you need to know about the style).
Here's the winner, though, awarded with the bias of moderately enthusiastic fan. Even so, I hadn't come across it before.  If you like it enough, you can even download a ring-tone. Sit back and enjoy John Denver's Home Grown Tomatoes.
 (Incidentally, there must be others. If you know other veggie songs, do tell us about it below.)