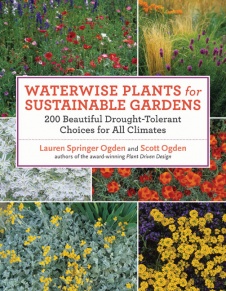 It seems perverse to review a book of drought-tolerant plants while looking out on another rain-soaked day in summer, but this weather isn't all bad. Inspect your garden after sustained and steady rainfall and you'll soon find out which areas of your patch remain surprisingly dry.
For these spots, and for gardens that experience drought at some point of the year Waterwise Plants for Sustainable Gardens offers 200 suggestions. Of course, always the implication nowadays is that we're heading for increased periods of aridity and all need to conserve water; this is certainly not the first book to title itself with this angle in mind. Once inside, however, it settles into a no-nonsense collection of plants that don't need a lot of water, divided into eleven categories, including trees, bulbs, ground cover, palms and cycads.
Authors Lauren Springer Ogden and husband Scott, who share their time between homes in Colorado and Texas, wrote Plant-Driven Design, which won a coveted American Horticultural Society Book Award in 2009. Their sojourns in Europe led them to introduce to the States plants that were virtually unknown over there, which then made it into the mainstream nursery trade.  These included seakale (Crambe maritima) and hardy shrub mallow (Lavatera thuringiaca).
Before you reject the book as purely American, though, Lauren has lived and gardened professionally in the UK, and the authors point out that many of the plants they've chosen will suit the UK. Their criteria for inclusion is described:
If a plant in beautiful, well adapted to the site and region, and not overly aggressive or invasive, it deserves consideration. If it needs little input in terms of soil amendment, fertilizer, or ongoing care, better yet. If it supports a range of creatures with food, cover, or nesting places, it's a win-win for all. We have used these criteria to pick the two hundred plants described here.
The common denominator of the plants is that they all require well drained soil. When fully established, they require only one inch of water every two weeks during the hottest part of the growing season, less in cool weather or when not growing strongly. This certainly makes this book worth perusing if you garden in containers.
Waterwise Plants is definitely not a substitute for Dry Shade Planting, which I reviewed in February. Of the 200 plants, only three are recommended for full shade, one of them being Ptelea trifoliata, a tree. (The others, in case you're wondering, are standard shade standby, Mahonia, and Ivory Sedge (Carex eburnea).)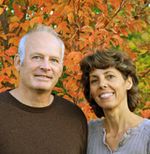 I must admit that, being lazy, I'd like a little more acknowledgement of the UK climate (there's the usual list of American climate zones, with their minimum temperatures, to give some ideas of equivalents, but that's all) but with a bit of cross-referencing of zones, a casual knowledge of what grows around us, and attention to remarks about the West Coast (which doubles for the Mediterranean), heat and humidity, you can get a feel for what is worth further research for growing here.
Where this book scores highly is in the Design Ideas and Related Plants paragraphs included in each entry. Only brief, these remarks, nevertheless, immediately conjure the sort of planting that would suit, and the companions that would thrive with it. If you're looking to create a dry garden, this will give plenty of ideas.
With good photos portraying each plant, and a one-plant-per-page layout, this is an eminently browsable book which offers plenty of food for thought, and a head start on checking up on the plants that you'd like to grow in the UK climate.
NB: thanks to World Wildlife Fund (WWF) for pointing out that I've managed to coincide this post with World Oceans Day. This annual celebration, every 8th June, honours the water that links everyone around the world and reminds us that we should treat our precious resource with respect. OK, so it's not immediately gardening-related, but water is water and we need to take care of it. The WWF would you to give them your tips on saving water in the garden.
And a final NB: I've linked this with the Garden Book Review meme at Roses and Other Gardening Joys. It happens every month around the 20th. Why not pop over and see what else has been read recently?