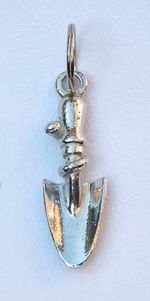 The craft fairs that happen at RHS Wisley a couple of times a year are always enjoyable, and last spring I came across this cute miniature trowel keyring on the stand of Partners in Pewter.
Adrian Noble, who creates the pewter pieces, has some lovely designs (boxes, coasters, pendants - that sort of thing) and, after exhibiting at Wisley last year, had come to the conclusion that, if he was going to take a stand at a gardening venue, a gardening-related item would be a good idea. Hence the trowel.  It hasn't made it into his range of pendants yet (though I think it definitely should) and I suspect that if you asked him he'd make one into a pendant for you. Worth asking.
The keyring measure 6cms and costs £5 and the trowel's handle has a cheerful worm with a smile on his face wrapped round it.  I'm sure it would bring a smile on the face of your favourite gardener, too.
NB If you're looking for miniature gardening equipment, then you'll probably love the silver tools created by Sheila Holness