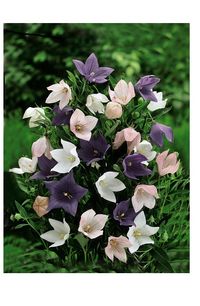 A few garden offers and competitions have crossed my path recently, so I thought I'd share them with you.
Suttons Seeds - 2 for 1 entry to the Eden Project, with selected pack of new varieties to Sutton's Eden range. These are 14 in the range, including  Ornamental Corn 'Little Jewels', Sea Holly 'Blue Hobbit', Castor Oil Plant, Balloon Plant, Birds of Paradise, and also tomatoes, aubergines, courgette and pepper.
If you've never tried growing a balloon plant (Platycodon), then I highly recommend it. I've only grown blue ones, but the colour was beautifully clear, and the little "balloon" buds before they break open into the star-shaped flowers are delightful.
Henchman have an Ebay store now, where they're offering End-of-Season and Ex-Demo stock, though you'll have to work a bit to check out what the savings are by comparing the store with their website. Equipment on offer includes tripod and platform ladders, compost tumblers and barrows.
Exbury Gardens, in the New Forest, are looking forward to a bumper season amongst the rhododendrons this spring. Head Gardener John Anderson said that while 2012's wet spring and summer weren't ideal for visitors (obviously a master of understatement. Ed.), the rhododendrons had certainly lapped up the rainfall. "Early summer is the time when the plants put their energy into the following year's bud growth, and 2013 is looking to be an exceptional season, especially for the large-leaved rhododendrons.' As encouragement to see if he's right, between 9th March and 9th June garden visitors who also buy a ticket for the Gardens Steam Railway will receive a free ticket for a return visit between 1st September to 25th October.
Bulldog Tools need a swift kick for not keeping their website up to date. Their ongoing website competition announces that each month they give away a Premier spade, but they seem to be rather behind. The current competition question was put up for last May.
When I emailed, Marketing Manager Fred Foot told me that they draw around once a quarter, so it wouldn't hurt to put your name down. And you might get a spade.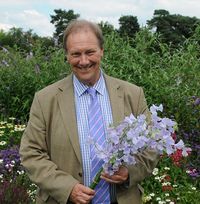 Mr Fothergill's has named this the Year of the Sweet Pea and, in celebration, is running a sweet pea growing competition at Capel Manor College,Enfield, Middlesex, on 6th July.
There are two categories for the public, each with a prize of £500: one for everyday gardeners and youngsters, and one for schools. The Sweet Pea Society will also be running a competition that day (and those entries will be well worth popping along to see).
You can either send your blooms, carefully wrapped, or turn up on the day.  All entrants receive a £5 voucher to use with Mr Fothergill's catalogue.  There's nothing mentioned yet, but keep an eye on their website, or maybe sign up to their newsletter, to keep abreast of details.
Incidentally, the picture shows Jim Gardiner, the RHS's Director of Horticulture, holding sweet pea Chelsea Centenary, chosen to mark Chelsea's 100th birthday this year. Graham Rice writes interestingly about this and other sweet pea introductions in the Telegraph last year.
UPDATE And don't miss 10% discount on Sarah Raven's website available via Vegplotting until the end of January.
And