A newly designed watering-can seems a bit unnecessary. Most do the job pretty well, though some are better balanced and easier to tip than others.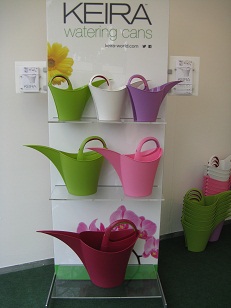 The new Keira, launched in the UK at Chelsea Flower Show this year, comes from the drawing-board of Croatian industrial designer Igor Juric. He seems to bend a little more towards vehicles, as he's responsible for Croatia's first electric car, a rather nifty-looking bicycle design, and a three-seater concept car, but is particularly keen on adding an enviro-friendly dimension to his work.
When he saw how much space was taken up by watering-cans in store and in transit, he turned his mind to creating a stackable design that reduces the space needed for transport and so saves on fuel.
The Keira watering-can carries other eco-credentials (as well as two, five or ten litres of water, according to the size of can you choose) as it's made of 100% recycled polypropylene, which itself is fully recyclable.
I was given the 2-litre size* and rather like it. The position of the handle makes it comfortable and easy to tip up and the long spout delivers water quite precisely to the spot you want, though if you're too enthusiastic and tip too quickly you risk a gush over your toes as it overflows the sides. If you need a fine spray for seedlings, obviously this isn't for you.
I've also noticed that, after four months outside, the colour is beginning to fade on the handle and the top edge. It's not the sort of thing that bothers me, but some might find it irritating.  I haven't tried the larger cans, so can't say how easy it is to pour with the heavier weight of water.
What I particularly like, though, is that if you leave it outside you'll catch far more rain in it than in conventional watering-cans because of its wide open top. This point has struck other designers, as can be seen in the Raincan, available from The Organic Gardening Catalogue. The Raincan is cheaper for its size, but when I played around with one in the Wisley shop I found its lid distinctly fiddly. 
The Keira can will be available from Bulldog Tools, who launched it at GLEE this year. They seem a bit tardy in getting their Keira website up and running; however, it is already on Amazon.
*By Keira, for review.