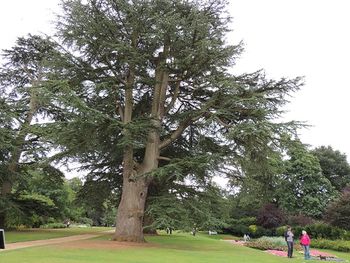 After the Duke of Wellington's cypress at Batsford Arboretum appeared here recently, the Iron Duke has raised his head again.
This time it's in relation to a 186-year old cedar planted by him at Kingston Lacy in 1827.
I'd suggest you take particular notice of it, should you visit, but you can't. It was cut down before Christmas.
Well, trees do die and news coverage from the Daily Mail offered this explanation:
"The National Trust said the 'landmark' tree had to be felled immediately after experts found there was only five per cent live wood left in the trunk."
Twitter remarks were philosophical: 
@RegencyHistory @NTKingstonLacy That is sad, but obviously it has to be done. Is any of the wood able to be saved and used for small items?
— Serena Lake (@Serena_Lake) December 3, 2013
The plot thickens
But suddenly the story changed direction. Jeremy Barrell, an expert with around 35 years' experience in tree risk management, who knows the tree well, worked on it in the 1980s, and had seen it only weeks before its destruction (which took place after it survived St Jude's brutal storm), made a video arguing strongly that it could have been kept. In it, he quotes from a copy of a report on the tree, done for the NT by another experienced company, Symbiosis – quotes which make it clear that the tree was not dying and the roots were sound. 
It's a measured and convincing argument on a tree that he describes as one of the five most important in the country. He's also prepared an extensive briefing document that I urge to you read.
For the NT's view, I tried to watch the video that Jeremy says they posted, explaining their actions, but I couldn't. It's been removed.
You've got to ask why. Did it not stand up against Barrell's broadside? Did it rely on a health-and-safety argument as indicated by the Daily Mail article? Did it attract too many "Dislikes"? Does the NT think it's justified itself better elsewhere? We don't know. What we do have, however, is the National Trust's blogpost on the Duke of Wellington's tree.
Health and safety was not the worry:
"We accept that we may not have explained fully that the felling was because of concerns of the tree's appearance as part of the historic landscape garden at Kingston Lacy if it underwent extensive surgery."
Excuse me? The National Trust, an organisation dedicated to preserving our heritage, destroyed a heritage tree of major importance because it might not look nice? Could they not, at the very least, have tried surgery first?
Their action has, as you may imagine, caused considerable debate among arborculturalists.  One contributor to Tree-care.info, the forum for tree-care experts, asks:
"At what point is a Cedar so compromised by pruning that it no longer delivers the architectural goods? Can we be confident that the Trust modelled the pruning options and analysed the relevant sightlines before digging out the chainsaw from the boot?"   
Can we?
I don't think so.
The declining role of history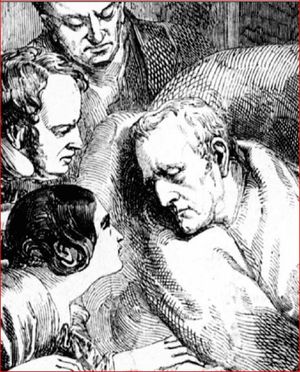 My feeling is that the decision was based on a mindset that seems widespread and pervasive among those who cater for the public – so pervasive that it's not recognised among those who hold it.
First, is the dismissal and general ignorance of currently unfashionable parts of our history. The Duke of Wellington was, at the time of planting, a national hero. He led one of the most famous victories in British military history. He was a significant Victorian Prime Minister. But we don't give much weight to that sort of history now – drowning it out in the mundanities of common experience and the "Who do you think you are?" style of social examination.
Second, the unique features of historical properties seem to be increasingly overlooked.  Just pick up National Trust leaflets for local attractions while you're on holiday and try to work out what's special about them – they blend into an undistinguished conglomeration of children's play facilities, activity days, café and shop. A day out for people who aren't that interested in heritage.
The tree's destruction says to me that the decision-makers didn't think its history that important; at least, not so much as a nice view, glanced at while the kids chase over the grass.
But what an educational opportunity missed! (If we must place a modern value on it.) Education in how tree surgeons work, the care required by veteran trees, and, not least, a chance to introduce an extraordinary personage who had a major impact on British history.
What do you think? (Do comment below.) My visit to Kingston Lacy certainly wouldn't be ruined by the old cedar being worse for wear. On the other hand, I'm very sure that its death by chainsaw, for me and many, casts a dark shadow over the view of where it once stood. And a shadow over the National Trust.
In fact, it's made me very, very angry.
What to do now
Obviously we can't do anything about Kingston Lacy. But, as Barrell says, there are other heritage trees:
"Together we may be able to make those with responsibility for similar trees think very carefully before they fell the next one, and then another, and then another, until there really are none left.

"Individuals can make a difference, but only if they act together and the support is strong."
I urge you to look at the briefing document, watch the video, visit the NT blog, and, if you feel as strongly as I do, make your feelings known by "liking" the video and commenting on the blog. Organisations that have power over our heritage should know that we are watching.
Last word to Jeremy Barrell:
"If enough of us register our approval/disapproval through this voting mechanism, then it would send a very  powerful message to The National Trust, but more importantly, to all owners of heritage trees, that they should think very carefully about the way they manage these unique and irreplaceable green assets."
UPDATE: Jeremy has set up a Facebook page to publicise developments: Heritage Tree Management.
There is more news of international interest in this story on Landscape Juice Network.