There are some plants that refuse to do as they're told. Solomon's Seal, warned against as invasive by some sources - or, at least, spreading - is certainly not that in my front garden. It's supposed to do well in shade (check!) and moist soil (check!). So, my tiny clump has sent up one flower spike per year for goodness knows how long. This year, though, it's sent up two and there are are couple of smaller ones on the way.
The flowers look superb and the leaves take to back-lighting like an aging diva. This can only be another plant which has lapped up the heavy rain over winter.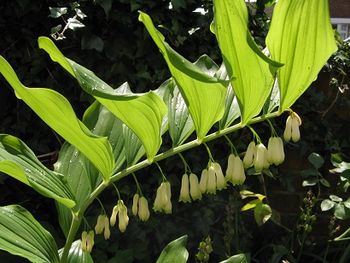 Must water more often.

Why not pop over to May Dreams Gardens to see what else in blooming in bloggers' gardens?