I first encountered mesembryanthemum when my mother ecstatically pointed them out to me during a holiday on Jersey when I was eighteen. They don't tally with my normal style of gardening, but after my visit to Ball Colegrave I'm coming round to the idea of some self-indulgence with pots. Combine this with the fact that a local nursery was selling these half-price, £1.75 for twelve plugs at the beginning of the month, and I found them irresistible.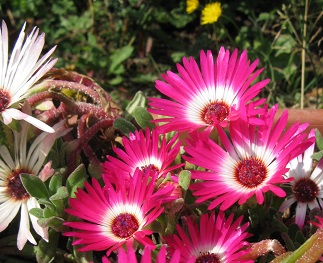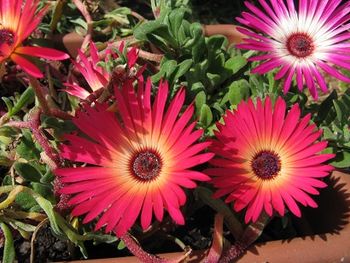 These are a particularly vibrant combination and I love their dedication to sunshine - wide open in full beam, but beginning to close, even while sitting in a sunny spot, at five in the afternoon.
I queried the possibility of keeping them going through the winter and the nurserywoman told me that you tend to think you're doing very well by keeping them going till February, when the short days get them and they give up the ghost. "Give it a try, though," she said encouragingly, but I know my limits. 
This is part of Garden Bloggers Bloom Day, run by May Dreams Gardens. Pop over and see what else is blooming in gardens around the world.