I was about to pass these over as my GBBD contribution this month. They're hardly new or unusual. But they're looking gorgeous as they dance in the gentle breeze: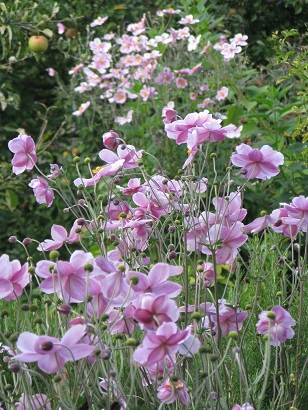 As a garden stalwart you can't do better than Autumn (or Japanese) Anemones. No maintenance, no fuss. Tough as old boots. Flower for weeks on end (ours started at the end of July).
For a long time we had a group just outside the dining-room window. We still do, but others decided to insinuate themselves further down the bed. I groaned - have you ever tried to dig out an unwanted autumn anemone? The roots go down forever.
But then I realised how having a more distant group really enhanced the view - in late afternoon, the near group is in shade, the further in sunshine, and two groups make the bed look longer.
I don't know why I bother really - I should just let Nature get on with it.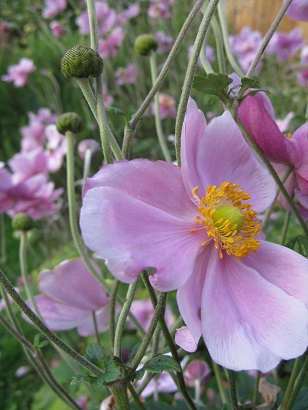 This is my contribution to Garden Bloggers' Bloom Day. Visit May Dreams Gardens to see what else is blooming around the world.