I love the way that Nature heralds spring with the sunniest of colours - as if she's sending encouragement in the oft grey days of February. This year I've had a surprise.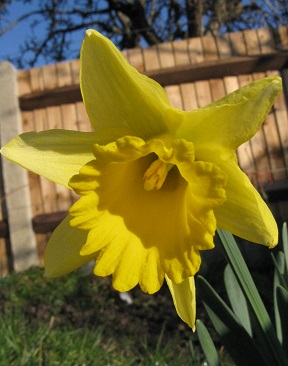 Yes, I know it's a daffodil. But normally our daffs appear way after the season's started, and tend to be narcissi with shorter, differently coloured trumpets. I have no idea where this lone specimen is from, but it's more that holding its own in a sunny spot by the raspberry beds.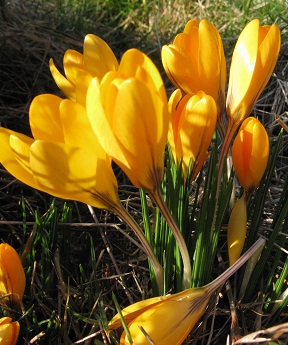 A different shade of yellow - rich and silky.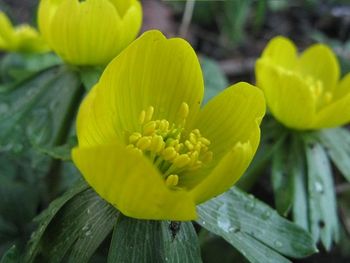 And yellow with a touch of green. Winter aconite catches me out almost every year. Where is it? I wondered a couple of weeks ago. I swear there were no leaves showing, no sign that they would return. Now they're fully fledged. I've been here before. I assumed they were late this year, but no, a look at GBBD from two years ago shows that they're turned up at exactly the same time.
When I joined GBBD I hadn't really even thought of it as a garden journal, but as my records grow it's worth is apparent. I'm a terrible record-taker much of the time, so here's thanks to Carol at May Dreams Gardens for running the meme and many congratulations to her on it's eighth birthday (I'm quite envious of the years of records that early joiners now have).  Why not pop over and see what else is blooming around the world?