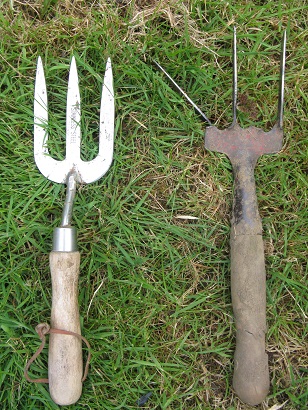 I'm fed up. My favourite handfork - which already was the worse for wear, having lost a "tooth" a couple of years ago - has lost another one. It's really now more of a mini-pitchfork. My problem is, not so much sentimental attachment, but that finding another is very difficult.
If you know of a company that makes them, I'd love you to tell me.
I fear, though, that it is a design that has fallen out of favour and I will have to search for an antique example. 
Handforks now are only three-pronged (as far as I can find, anyway) with the prongs' width at right angles to your arm. Mine - inherited, I think, from a great uncle's house c. 1977 - has four twisted tines which place their width on the same plane as your arm. Two have snapped off at the point where they twist through ninety degrees.
Ah! you might be sagely nodding. Design fault. Well, hold on, they've snapped after - what? - nearly seventy years.
A bit of research on the name stamped in the metal reveals this fork, by Brades Nash & Tyzack, to have been made around the 1950s. The firm was formed at the beginning of the decade from Nash Tyzack and William Hunt Industries, and merged with C T Skelton to form Brades Skelton & Tyzack in early 1960s.
The handfork (no. 27, the stamp tells me) has a nicely shaped and extra-long wooden handle. It's comfortable, well-balanced, the tines work well in my heavy clay soil, being easier to dig in than the thicker, three-pronged affairs, and the narrower profile of the tines works more comfortably around plants.
There are websites selling second-hand versions, but I'd rather hold one in my hand before I buy it. I'm just going to have to keep my eyes open for one at places where they like to sell them as antique wall decorations.
I was puzzled as to why they're not made like this anymore, but, seeing the new and old placed together in the picture, I think it's pretty plain that the older one has a higher level of workmanship and - what do you think? - demands a level of skill that is scarcer these days and would cost more to make?
Ho hum.
I bet there are loads of us who are hanging on to favoured old designs in preference to what' s on offer now. Are you?