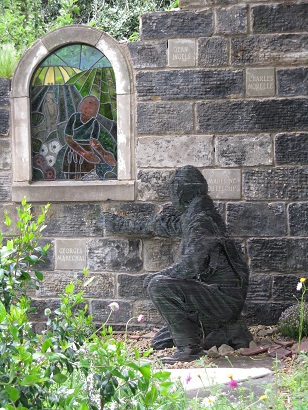 So, one week on from the start of this year's Chelsea Flower Show, all that's left are photos and ideas.
One garden which has stayed with me is Chorley Council's Evader's Garden in the Artisan category. It had a couple of arresting elements: the ethereal sculpture, made of 3mm thick steel plates, glued together with 3mm gaps, and the path.
John Everiss, who had designed both the sculpture and the garden, said of the way it would fade and reform as you moved around, "It's worked beyond my wildest dreams." The path was created from carved Portland stone, taken from the same seam as stone used for the Commonwealth war graves, and emulated the folds of the parachute (copied from a large piece of silk by the sculptor).
With this garden went the backstory of Everiss's father trying to evade capture in France, using French papers even though he didn't speak the language, and filling potholes for the Luftwaffe who, he swore, knew he was British but said nothing, as they knew that he would be shot as a spy if they did.
The crouching figure balancing himself with his hand against the church wall, the jeopardy, the drama brought to mind every WWII escape story I've ever read, and every black and white war movie. It won Silver Gilt. It was one of my favourite...and yet...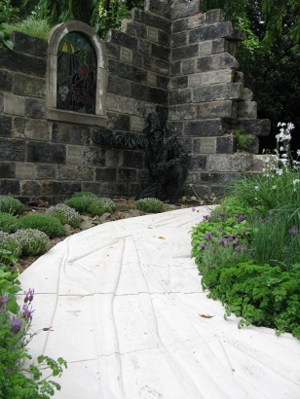 I took myself to task. If Dan Pearson's evocation of a boulder-strewn Chatworth corner seemed to me to be relying just a little too much on Nature and, in my view, wasn't exactly a garden, should I really fall in love with this? The answer is a reluctant no. I was in thrall to the set and the story.
Take away the figure and parachute path, and you're left with a corner. Not really a garden. Not a great deal for anyone to take home with them. Likewise, A Trugmaker's Garden was a lovely set design, as was last year's DialAFlight Potter's Garden, depicting a studio abandoned in 1914, and in 2013, the MND Association sponsored A Hebridean Weaver's Garden. 
Do you think I'm being too severe? They're very skilful, indeed, but surely they''re more sets than gardens?  I can't recall that any Chelsea creation has been used as a period film-set, but surely someone has been missing a way to recoup some expenses here.
And I'd wager there will more chances. What odds that we have an artisan garden next year that includes a scene of bygone days, created to evoke a warning or bewailing of loss of skills? What minority country craft shall we guess at: love-spoon carving, hedge laying, wurdling? (Round the Horne fans, you know who you are).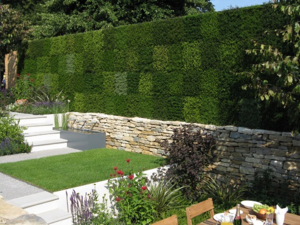 The question is: is a garden that makes you think Ralph Fiennes might appear through the door at any moment, dressed in 1920s garb, anything more than a clever pastiche that concentrates on wowing with fantasy rather than planting? Should there be a category for Story Telling gardens, instead?
Something I'd love to see more of, and which would really suit the Artisan category, would be gardens along the lines of those created by the British Heather Growers Association at Hampton Court in 2011, which beautifully demonstrated heather. I'd like to see Artisan gardens created by plant associations and nurseries, purely to illustrate what can be done with their particular enthusiasm.
Less set design, more gardening, I say.
For more on the 2015 RHS Chelsea: