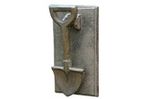 2014 update: A spade door knocker is available from Selections. Sadly Plantstuff seems to have gone out of business.
My gardening wish list:
Delivered compost
Bright red secateurs that I can't lose in the undergrowth
A year's supply of twine
There, it doesn't have to be pretty to be appreciated. But sometimes you want to be frivolous. Plantstuff.com, based in Somerset, offer items that you won't find easily on the high street. And in their Sale section last week, I couldn't resist the door knocker pictured. It has 75% "knocked" off (sorry!), and postage is £5.95, so the whole purchase was £8.95.
The saleswoman was friendly and my frivolous purchase arrived two days later, well wrapped. Who's it for? Well, me, actually. It's going on the door of the garden shed. And, whatever my husband says, that has nothing to do with the fact that I never had a Wendy house. What's on your gardening wish list?