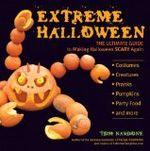 If you're planning a Halloween party just now, then Extreme Halloween will certainly give you ideas for decorations and food, not to mention what to do with the pumpkin glut from the garden.
A Halloween party in Britain usually means making toffee and bobbing for apples but this book, by Tom Nardone, is hard-core American Halloweening.
From suggestions for the barbecue (Roasted Human Being, anyone?) to creating a haunted lavatory, Tom provides some pretty ghoulish ideas. Have to admit, though, rigging up a moving ghost in the front garden and scaring the newest batch of trick-or-treaters is rather tempting. But seventeen pumpkins to make a baby-eating yard monster? Makes my harvest of three look pathetic.
Send us pics of anything you do.