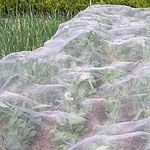 As garden activity hots up, a lot of delving goes on in sheds. Finally, after much scraping, shifting and unrepeatable muttering, I remembered I'd crammed the Enviromesh somewhere completely different.
I throw vast swathes of this crop protection over my seedlings, not as stalwart defence against carrot fly and cabbage fly, but in my eternal battle against local pigeons. I've had my variously sized pieces, cut to length by me from a long roll, for at least five years now, and they show no sign of breaking down. So, Agralan's promise that the UV-stabilised polyethylene mesh should last seven to ten years seems to be holding water. (Unlike the mesh, of course, which would strain it like a sieve…)
Agralan have been researching products which allow gardeners to reduce their reliance on pesticides for around 20 years now. Download their 2010 catalogue or order it by sending your details to sales@agralan.co.uk.
But if you're wondering if Enviromesh is just what you need, a visit to the Enviromesh FAQ page at Gardening-Naturally will give more information, such as the most economical way to buy it, why it wouldn't work in green, and why carrot fly might still be a problem. Gardening-Naturally is based in the lovely town of Cirencester and, as you might expect from a company so-named, offers a wide range of products with the environment in mind. It is currently offering Enviromesh at a 10% discount.