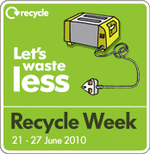 Do you love your old mower? I mean, really love it? So much so that you can't part with it, despite the new, better one in the shed?
In what is surely a tongue-in-cheek press release, Recycle Now quotes psychologist Linda Blair in explaining why at least 40% of us find difficulty in relinquishing plug-in goods we no longer use.
"We value our electrical items because they make life easier and because so many of them connect us to the wider social world, either practically or because of the memories associated with them.
"Even when we no longer use them, we may be reluctant to let them go for a mixture of rational and sentimental reasons. A key factor is the sense of connection, control and safety these items give us. The attachment is similar to an infant needing a teddy or comfort blanket.
"This explains why we can end up having tantrums when the item breaks down and why some of them end up accompanying us everywhere - having their place at meals and by the bed for example."
Oh, bless.
But seriously, we're right in the middle of Recycle Week, an annual event, in which the British Heart Foundation is taking part. It's happy to receive any unwanted electrical goods, either at events or Furniture and Electrical stores (check for these on its BHF Map page). For gardeners, this means that any old power tools, strimmers and lawn mowers are welcome.
Now, take that hedge-trimmer off the nightstand and give the poor thing its freedom.