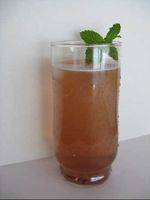 Speaking of an enormous blackberry harvest (which we were in the last post Training a Wild Blackberry), we now have pots of blackberry and apple jelly and bramble jelly. Personally I don't think it's worth making jam, as blackberries are very pippy, but there's only so much jelly you need.
What I will be making now, and for the third year running, is Blackberry Vinegar.
Yes, it surprised me too.
You can make it with or without sugar, but I make the sweet version as I reckon it's more versatile. It makes a great sauce to dribble on ice-cream, an extremely soothing, thick cough syrup (and the acid content is supposed to help get rid of bacteria), and it can be watered down like squash, which is how most of mine gets used up.
If you want to dilute it as squash, I recommend using cider vinegar, as it's slightly less sharp than malt. But, malt or cider vinegar, what you get is an adult alternative to the heavy sweetness of today's commercial squashes.
Blackberry Vinegar Recipe
Quantities: forget metric. Just remember a pound of blackberries needs a pint of malt or cider vinegar and a pound of sugar. It's easy to adjust if your quantity of blackberries isn't exactly a pound.
Soak the blackberries in vinegar for three to five days, stirring occasionally (use a china or glass bowl, not metal). Strain through muslin or a jelly bag. Put into a saucepan with the sugar and heat gently to dissolve the sugar. Boil for ten minutes and pour into sterilised bottles (use the bottles that the vinegar came in).
Enjoy!